Know the Finest Way to Accelerate your Data Annotation Efforts
Cigniti Technologies
A decade ago, getting data was a critical task in every industry. Today, we see data flowing into the organization's database from everywhere. Organizations can access massive amounts of data from sales, marketing, customer experience, finance, operations, human resources, and other departments.
The requirement of today is how to use this data efficiently and effectively. New-age technologies such as data and insights, visualization, Artificial Intelligence (AI), Machine Learning (ML), etc., have come into the picture to address this problem. We can now draw better insights from the data, visualize effectively, and use AI and ML to get results faster than ever expected.
According to a recent report by Grand View Research, the size of the worldwide market for data annotation tools is anticipated to reach $1.6 billion by 2025.
Why data annotation is crucial in the ML model?
One breakthrough technology that is presently used in almost every industry and has a breadth of applications is Machine Learning. It is one of the popular subfields of Artificial Intelligence and is used almost everywhere, such as in healthcare, finance, marketing, consumer behavior, autonomous cars, gaming, food processing, satellite imagery, green energy companies, utilities, sustainable energy, etc.
Data scientists model different ML algorithms to draw meaningful insights from a given set of data. They use different models on the same data to gather different insights based on the needs of the business. The crucial part behind the success of any ML model is the process called "data annotation".
Importance of data annotation in AI
Data annotation is the workhorse behind AI and ML algorithms. It is the process of labeling the data available in various formats like text, audio, video, or images. Labeled data sets are required for machine learning so that the machines can clearly understand the input patterns. The success of the ML model depends on how well your data is annotated. But unfortunately, valuable manpower spends days annotating the data rather than creating and deploying models.
Data annotation is a heavily time-consuming process, where 40-50% of the time of an ML project goes into labeling the data rather than deploying the ML models.
Problems faced by data scientists
Data annotation is a laborious process. The real-life data is messy, unstructured, and enormous. This means data scientists need to spend a major amount of time on the preparation of the data rather than spending their valuable time on building robust models.
According to surveys of data scientists, "76% of data scientists view data preparation as the least enjoyable part of their work" and "data scientists spend most of their time massaging rather than mining or modeling data".
To address this challenge, we at Cigniti have developed a solution to speed up this data annotation process. We developed a platform called "ZastraTM."
Minimize data annotation efforts with ZastraTM
ZastraTM is an end-to-end, enterprise-grade annotation workflow platform that minimizes Data Annotation efforts and maximizes Collaboration.
It uses state-of-the-art Active Learning methods to reduce annotation efforts by up to 70% and delivers high-quality detection, classification, and segmentation of image and video datasets.
Why ZastraTM is designed?
The following important points motivated us to design ZastraTM and address the problems faced by Data scientists.
Constructing the datasets today by providing labels and annotations is extremely time-consuming and inefficient.
Data annotation and labeling is a multi-dimensional activity and its speed, accuracy, and completeness have a direct impact on the effective mainstreaming of AI applications in an enterprise.
Current collaborative environments too often 'lock out' different stakeholders depending on project stage and maturity, do not allow for intelligent collaboration and handover between teams, and introduce inefficiency and risk by not providing adequate visibility into project status and updates.
Teams working at various stages of the AI project lifecycle have no meaningful coordination. For example, upstream input teams such as labeling and annotation, Midstream teams such as model training and tuning, and downstream, output teams, such as model deployment and production.
A snapshot of ZastraTM
Below is a snapshot of the workflow of the project. Raw data, training data, training models, real-time annotation, team collaboration, and export of the annotated data and models can be managed from the platform itself.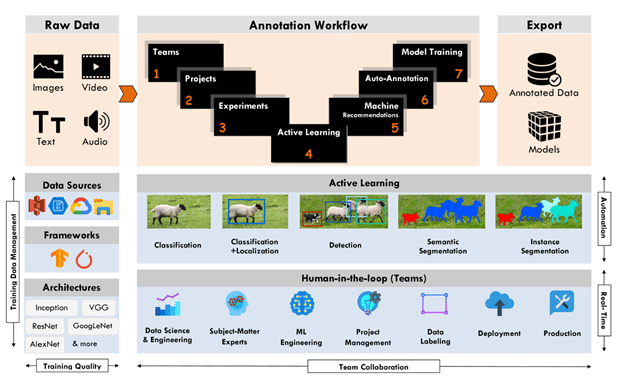 This picture highlights the end-to-end capability of the annotation workflow within the platform and the possibility of collaboration from various teams.
Key capabilities of ZastraTM
Following are the key capabilities of the platform.
Real-Time Collaboration: It brings together disparate teams (such as SMEs, data scientists, labeling teams, project management, ML engineering, deployment, and production) so they are collaborating effectively and reducing time-to-market.
Active Learning Driven: Active-Learning-based object classification, object detection, localization, and segmentation (upcoming). We can do this for images, video, audio, text, and point cloud data.
Topological Data Analysis: Clearly understand the 'bias' in the annotated data.
No Data Redundancy: Compatible with (Blob, S3), use data across your projects without duplication.
Pre-Built Algorithms: Integrated within the platform for detection and classification.
Popular Frameworks: Supports PyTorch & TensorFlow, including the ability to change hyper-parameters.
Re-Use / Re-Purpose: Easy to use with one or more datasets; Multiple Projects – Multiple Experiments.
Easy Export: Not just the labeled datasets but also the models. Move / Export to an external location.
Benefits of ZastraTM
Below are the benefits of ZastraTM that help you during your data annotation process:
Reduce time in the data annotation process and thereby reduce the time taken for the ML project
Reduce annotation time and effort by up to 70%
Delivers high-quality detection, classification, and segmentation on image and video datasets
Increase collaboration and effectiveness of the entire AI development and deployment process by providing a unified platform
Conclusion
The volumes of data available in the market are humongous, and it is the one who takes advantage of the data faster and gains the maximum.
Cigniti's ZastraTM reduces your data annotation efforts and fastens your ML model deployment, thereby helping you achieve the true market potential you deserve in the global ecosystem.
Need help? Read more about ZastraTM to learn how it can accelerate your data annotation efforts.