Black Friday: How To Make Sure Your Website Is Ready?
Cigniti Technologies
Yet again, the biggest shopping season of the year is coming up, with Black Friday & Cyber Monday around the corner. Here are some interesting insights into Black Friday shopping in 2014:
[Tweet "US online revenues amounted to $1.5 billion which means that $17,361 was spent every second online."]
[Tweet "Amazon UK sold more than 5.5 million products at a rate of 64 items per second"]
[Tweet "Mobile sales accounted for 27.9 percent of total online sales, up 28.2 percent from 2013"]
Predictions about 2015 Black Friday sales in UK compared to 2014: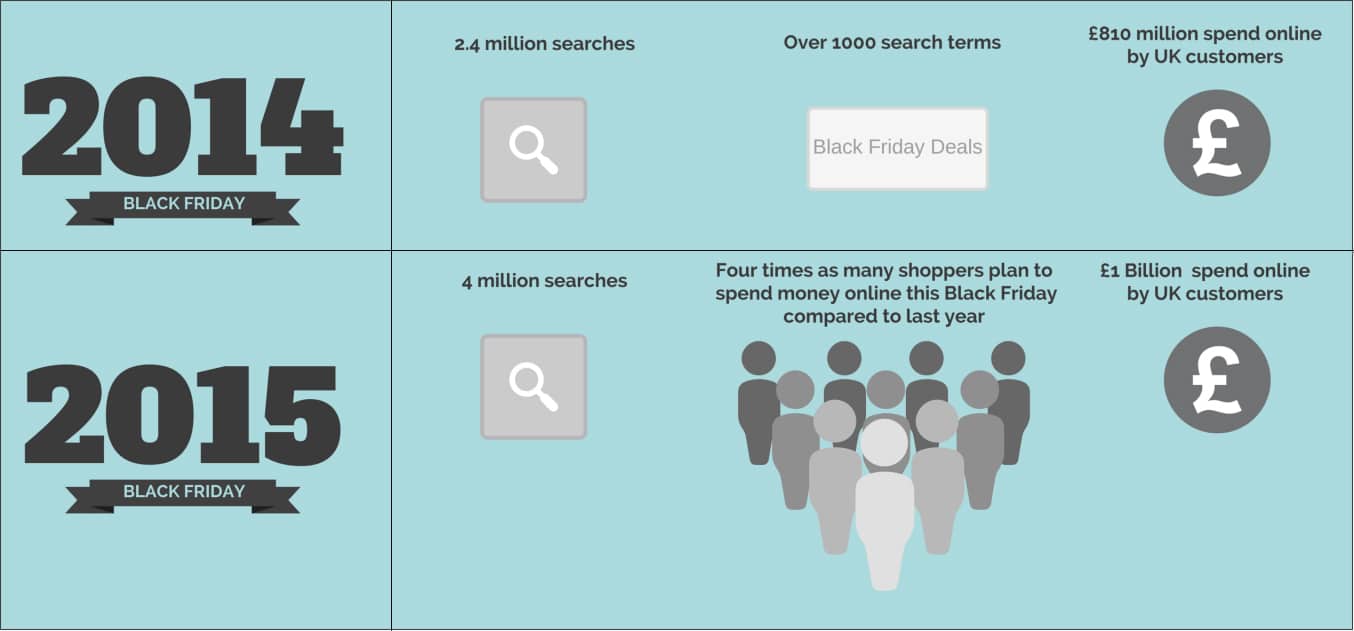 Quick facts about Cyber Monday
On the flipside,
A study last year revealed that the average cart abandonment rate was a whopping 65%
Best Buy lost potentially millions when its website and applications went down for almost three hours
Kohl's experienced even worse downtime when its website was down for most of first-half of the day due to heavy traffic.
So the million dollar question is: Is your website all set to handle the heavy influx of traffic and offer outstanding customer experience?
Aren't the statistics above alerting the need for optimizing performance of your website enabling seamless online business transactions?
How To Make Sure Your Website Is Ready?
The Shopping experience becomes frustrating to many customers due to website outages. According to a recent Harris 2015 poll, 46% of shoppers have said that they will never come back to a slow website. More so, as per a recent study by SOASTA, 18% of shoppers have cited too slow web pages as the main reason to abandon carts. Hence, the speed of web page plays a crucial role in appeasing customers.
Retailers have to ensure that their sites work well against the sudden upsurge of traffic to the website during the holiday season. They need to scale up all backend systems, deploy enough servers and be prepared for high volume traffic.
There are a number of proven cases where business boosted by increasing page speed. Here is a snapshot of the comparative study between performance vis-à-vis conversion rates conducted by Walmart in 2012.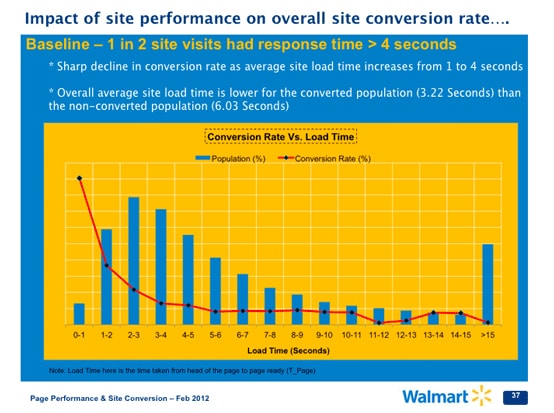 It states that the overall average site load time for converted visitors was lower (3.22 seconds) than that of the visitors who didn't convert (6.03 seconds).
Similarly, Intuit reduced its load time to half for several of its web pages and witnessed a 14% increase in conversions. Therefore, improving page speed is a strategy to optimize website performance for the holiday season.  Performance testing, including load testing, stress testing, etc., plays a major role in ensuring that the website works as intended.
An organization must be prepared for both the best and the worst case scenarios, even if they seem unlikely. Websites have to be run through a sequence of tests, while continually increasing the load and monitor the hits throughout, until a scaling issue is detected.
Load testing is a prerequisite to finding defects including load balancing problems, capacity issues of the existing system, and bandwidth concerns before online shoppers experience them, saving retailers from facing unpleasant situations. For example, Flipkart seems to have prepared well for the Big Billion Day sale this year in order to make sure customers get smooth shopping experience, after last year's disaster.
Besides, it is found that Black Friday is a very exciting day for mobile shoppers. IBM, in its study, found that mobile accounted for 51.2% of all browsing and 28.9% of Black Friday sales in 2014. Hence, in view of this fact, organizations have to go mobile-friendly with responsive websites and applications. Such mobile websites and apps also need to be tested for performance on real devices.
Retailers require a reliable software testing vendor who can assess the performance, load scenarios of website / apps that need to be tested, and decide on the data, tools, and infrastructure that are essential to run the tests. After execution of such tests, testing services providers can guide you on the areas that need to be optimized. Testing services providers can also help you analyze historical workloads to your website and define workloads for specific high traffic days like Black Friday, Cyber Monday, Christmas, Big Billion day etc. to be able to avoid any performance disasters.
However, it's always important to continuously test the performance of your site throughout the year, not just before the frenzy of the shopping season. In today's competitive world, considering the changing customer demands, new features are added frequently to the website. Sometimes, retailers come up with new promotions on a daily basis to tap the market potential. Hence, performance and load testing must be done continuously year around and throughout the SDLC, not just before large events.
How can Cigniti help you?
Cigniti, a global leader in independent software testing services, provides Performance Testing Services that manage your web / mobile performance challenges efficiently and ensure superior end-user experience. With its deep domain expertise coupled with 15+ years of vast experience in software testing, Cigniti can help you determine the best approach and methodology for performance testing and validation of your critical web / mobile performance issues. Reach out to us at contact@cigniti.com to get your website ready to tap the unprecedented business potential of this holiday shopping season.