Harnessing Sustainable IT: Empowering Corporates to Drive Net Carbon Reduction
Midhun Pingili
Corporations are embracing their role as change agents in a world marked by environmental challenges and the demand for sustainable practices. Sustainable IT has emerged as a crucial enabler of environmental stewardship and responsible business practices. Sustainable IT encompasses a range of strategies, including energy-efficient hardware, reusing the available frameworks and tools, optimized data management, Eco-design applications to minimize resource utilization, leveraging AI for building sustainable frameworks, and proper consumption of resources. With the increasing integration of technology into every aspect of business operation, corporations are realizing the significant role they can play in promoting sustainability through their IT initiatives.
This blog explores the crucial role of Sustainable IT in the current world and how corporations are aligning their strategies to embrace this transformative approach, driving positive change for both their businesses and the planet.
Adoption of Sustainable IT across the Globe for the Net Carbon:
Recognizing the profound impact of their digital operations, corporations are proactively aligning their strategies to integrate sustainability principles into their IT infrastructure and digital practices. Globally, regulatory requirements are the highest driver for enterprises to report on environmental sustainability metrics (Global: 48%; North America: 49%; Europe: 48%; and APAC: 48%). Surprisingly the customer sentiment/perception was also high for NA at 43% but not shared by Europe (29%) or APAC (24%).
These findings from Forrester emphasize the need for technology and sustainability leaders to benchmark their IT environmental sustainability, prioritize initiatives, and improve vendor procurement decisions.
CEO Focus: Environmental Sustainability
Environmental sustainability has surged in CEO priorities, rising from 13th to 8th place with a remarkable 292% increase in 2023. This shift highlights the growing recognition of the urgent need for sustainable practices and their integral role in long-term success and societal impact.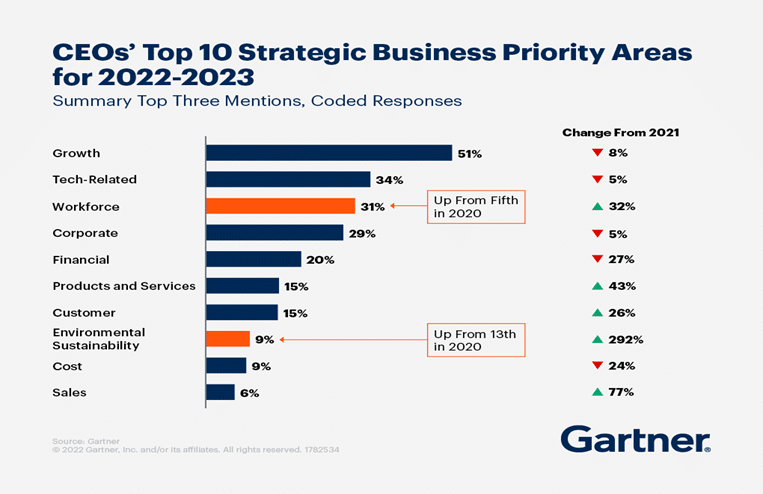 How IT Plays a Critical Role in Sustainable Development:
Role of IT in Driving Sustainability: Information Technology (IT) is crucial in driving environmentally responsible practices and contributing to sustainable development. IT firms have a significant impact by adopting sustainable measures, such as reusing frameworks and tools, procuring hardware and user devices with minimal lifecycle carbon cost, and adopting efficient data transfer mechanisms.
IT Solutions for Environmental Responsibility: Leveraging enterprise cloud solutions and integrating sustainability practices at every step, organizations can effectively reduce their environmental footprint, optimize resource utilization, and actively contribute to a greener future.
Partnering with Solution Providers for Sustainable IT: IT solution providers play a vital role in enabling sustainable IT and helping organizations achieve carbon neutrality. They contribute to sustainable practices by offering guidance and expertise during IT projects' planning, design, and deployment stages.
Promoting Environmentally Conscious Designs: Solution providers promote environmentally conscious designs, energy-efficient architectures, and sustainable materials. They also assist in optimizing resource usage, reducing energy consumption, and minimizing waste.
Optimizing Resource Usage and Minimizing Waste: Monitoring and measurement of environmental impact through tools for carbon footprint tracking and reporting is facilitated by solution providers.
Monitoring and Measuring Environmental Impact: By partnering with solution providers, businesses can leverage their knowledge and innovative technologies to drive sustainable IT practices and make significant strides toward a greener future.
Importance of QA in Sustainability:
The importance of Quality Assurance (QA) in sustainability must be considered. According to the World Quality Report and other sources, 82% of organizations recognize that quality engineering significantly impacts the social aspects of sustainable IT, contributing considerably to brand value. However, there is room for improvement in leveraging QA for environmental sustainability, with only 72% of organizations seeing its potential. Organizations must optimize resource usage and prioritize quality as a core strategic focus to achieve true ecological sustainability. By integrating QA practices throughout the IT lifecycle, organizations can drive more sustainable IT solutions, benefiting both the environment and their brand reputation. Embracing quality as a fundamental principle is vital to building a greener, more sustainable future.
Sustainable IT Initiatives:
1. Green Procurement Policies:
Implement green policies for IT hardware and services procurement.
Focus on devices with minimal lifecycle carbon cost.
Consider energy-efficient and certified hardware options.
2. Employee Awareness and Hardware Disposal:
Improve employee awareness of device utilization and sustainability.
Properly dispose of, recycle, and refurbish hardware.
Encourage responsible end-of-life management for devices.
3. Energy Efficiency and Network Optimization:
Utilize energy-certified hardware and devices with auto-off features.
Prolong device lifespan through effective power management.
Deploy edge computing to reduce network transfers and energy consumption.
4. Green Cloud Solutions and AI/ML Optimization:
Adopt green cloud solutions to minimize environmental impact.
Leverage AI/ML technologies to optimize data center utilization and cooling.
Explore AI-driven efficiency improvements in IT operations.
5. Carbon Footprint Accounting and Circular Economy:
Assess environmental impact and establish carbon footprint accounting.
Advocate circular economy principles when working with vendors.
Encourage sustainable practices throughout the supply chain.
6. Sustainable AI Applications and Governance:
Streamline data architecture for sustainable AI applications.
Ensure senior technology executives' participation in sustainability governance.
Integrate sustainability considerations into AI development and deployment.
Organizations can promote sustainable IT practices and contribute to a greener future by adopting these measures.
Conclusion:
In conclusion, while the journey toward sustainable IT is still in its early stages, it is essential to recognize the significant role of solution providers in enabling and driving this transformation. Solution providers can actively support organizations in their quest for sustainability by offering innovative solutions, tools, and technologies that help reduce carbon emissions and promote environmentally responsible practices. By collaborating with solution providers, businesses can leverage their expertise to achieve carbon neutrality and make meaningful progress toward a sustainable future. Organizations and solution providers alike need to invest in raising awareness about sustainable practices and educating stakeholders on the benefits of adopting environmentally responsible strategies.
We at Cigniti are committed to achieving Net Zero emissions by 2050. This Carbon Reduction Plan has been completed in accordance with PPN 06/21 and associated guidance and reporting standard for Carbon Reduction Plans. Click here to learn more about our commitment towards Net Zero emissions.