IoT in Hotel Tech-The Smart Room Transformation
Deepakumar
You have just arrived at your favorite holiday destination and reached the hotel reception on a busy morning. It shouldn't matter to you today if the hotel reception is crowded or there is no one available to help you with check-in. You will directly walk over to the self-service kiosk, enter your booking details, and scan your passport. The check-in process is completed in no time and you are provided with your room details. The kiosk even vends out your swipe card! I am sure you will be quite happy about how smoothly the check-in went, but the best is yet to come. The kiosk displays a QR code during the process, which you scan using your smartphone. Instantly, the smartphone connects to the hotel Wi-Fi, downloads an app, and opens it. As you browse through the new app "My Smart Room", you will be amazed to see the many facilities that you have at your fingertips. Welcome to the next level of the best hotel guest experience!!
If at least some of you are wondering if this can happen in real life, please be aware that this is already happening thanks to the NewGen computing, communication, and information technologies such as cloud, big data, AI/ML, and IoT that make the guest's smartphone a remote control of almost all that is needed in order to have a memorable stay.
The Smart Room Experience
The simplest way to define a smart room is as a "connected room" that can be controlled by the guest according to his/her preferences during the stay. Smart Room tech is part of the smart hotel ecosystem where the guest can stay on top of what is needed, and when needed, by being connected to the hotel staff, its information systems, and other services all the time using smart gadgets. These gadgets could be tablets carried by the staff or fitted in the room, but the most advanced "Smart Room" puts the guest's smartphone at the center of all these controls and personalization. This, in turn, helps create a highly personalized customer experience throughout the stay. This means, using your smartphone, you can
View and adjust the room's "weather"-the heating and cooling as well as the lighting.
Browse through the restaurant's menu and book a table or place an order for room service.
Set your alarm so that along with the alarm, your room's window shades also open for a bright morning view.
So, the Smart Room app on your mobile is a smarter way of personalizing services and goes a long way in promoting not only customer satisfaction but also the hotel brand!
The IoT Connection
We should know that our "smart connected world" of today has had some really smart predecessors, such as the remote controlled gates and doors in buildings, or the embedded systems and fuzzy logic controllers that gained wide attention when smart refrigerators were introduced. Our smartphone was one of the latest additions to that list. But what differentiates today's smart technology is how devices have started talking to each other and what gives our smartphones that "extra power" to control and personalize things around us. And that is made possible thanks to one technology; the "Internet of Things", or simply IoT, which helps design an ecosystem for many devices to connect and process information "on the edge" over a common network-the internet-that helps simplify, yet speed up processes and greatly improve efficiency!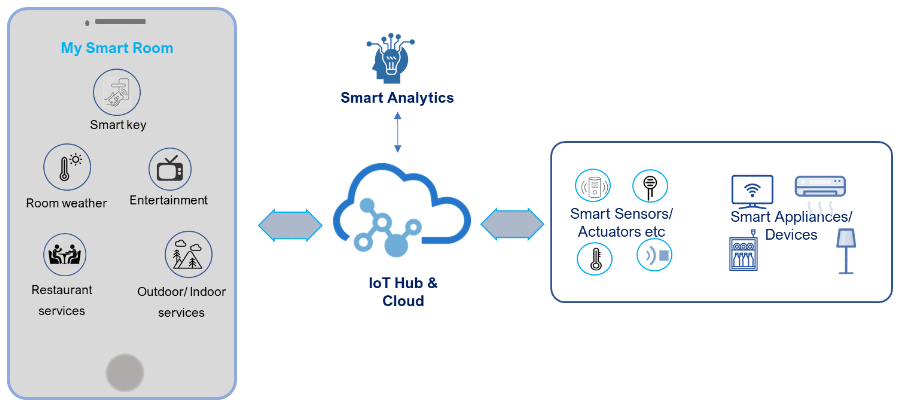 Figure: A simple representation of an IoT driven Smart Room
IoT is not a new concept at all, technically speaking. In fact, the first IoT device-an Internet Coke Machine-was developed in 1982 by a group of students at Carnegie Mellon University who, sitting far away in their rooms, wanted to check the stock levels in the Coke vending machine using their PCs. But the power and reach of today's IoT connected world has spread out further and farther thanks to the internet, cloud, and other technologies. Pandits claim that IoT will have a more profound disruptive effect on industry and organizations than many of its predecessors, like BPR, Lean, Agile computing, etc. Even better, IoT is becoming less and less costly to install and implement and is a great way to improve energy efficiency and achieve sustainable goals.
Smart Room Digital Assurance-Key considerations
It is never an overstatement to say a smart room or a smart hotel is incomplete without IoT. At the same time, IoT enabled implementations present their own set of new challenges related to security, privacy, and reliability, not to mention performance and integration related challenges. From an IoT perspective, an effective and fool-proof digital assurance approach requires the following key considerations:
Multitude of connected devices
An IoT-enabled Smart Room is characterized by many devices that connect to each other. And when you put advanced low-latency communication technology like 5G into the picture, it becomes hundreds, if not thousands, of devices in a space like a busy hotel, for example. Testing such a system needs meticulous and disciplined strategy and methods.
Increased testing is needed at lower physical layers such as hardware, network, and OS as there are many hardware and firmware and an extensive variety of protocols.
Testing should also take into consideration the possible continuous change in hardware versions  and the related additional demand for testing new variants in less time.
An increase in the number of devices leads to rapid growth in inter-links, with the weakest link becoming a potential threat to the security of the whole system.
Continuous data collection in near real time
Data is the lifeblood of a connected ecosystem, so one of the critical success factors of an IoT implemented solution is how easily the data integrates across devices and flows seamlessly from one end to the other. In addition, building value-adding services leveraging such data is a key consideration for investing in such initiatives.
Overall customer engagement and experience
The net effect of any transformation is that it must improve the customer or user experience. The hotel's Smart Room technology is expected to considerably enhance customers' overall satisfaction with the hotel stay. This means that each use case and customer journey being implemented is thoroughly tested not only for functional maturity, but also for compatibility with any device or OS that a customer may carry. Today's assurance must ensure that the right use case, and only the right use case, is implemented in the right way. Please, no surprises for the guest!
Conclusion
Smart Room tech goes a long way in creating a lasting and memorable positive experience for millennial and next-gen customers who want all the information and convenience at their fingertips. Leading hotels are already on their journey towards experimenting or creating their own Smart Rooms leveraging IoT. IoT-driven Smart Room Technology creates multiple benefits for the guest, the service provider, and the environment.
It provides smart controls to make the guest's stay a uniquely rewarding experience through personalized services.
It streamlines, simplifies, and optimizes hotel check-in and stay processes, thereby improving the overall efficiency of operations and staying competitive.
It helps make the whole hotel ecosystem environmentally sustainable by optimizing energy usage.
Testing of IoT systems presents a whole new landscape compared to conventional (web-based) software development and QA approaches and thus requires a well-defined strategy that covers both hardware and software performance and reliability. Cigniti's digital assurance capabilities and IoT testing expertise span many focus areas, from security to integration, and put together years of experience, a team of highly skilled resources, and a robust testing infrastructure to help its clients attain confidence in their IoT-driven solution implementation.