Modernizing the Customer Loyalty Landscape
Deepakumar
These days, we can't complete a transaction in a retail store without "giving away" our contact number. This is true especially if the store is part of a retail chain that is spread across the region or country, and there are many stores present within the city a few kilometers away from each other. If you ever wonder what they are doing with your contact number, just be aware that they have a file on you! This is a simple form of a membership club where each of our contact numbers becomes our unique membership identity, or at least part of the membership profile! With this number, they may be tracking all the items each of us is buying and how much money we spend every time. Next time when we go to the checkout counter and say our number again, we may be told by the checkout staff that we have earned 15 % discount on our purchase this time. Guess that will be as exciting as it was unexpected, and that is for no reason!
Welcome to the world of loyalty programs!
When we make repeat purchases and the shopkeeper gives us a discount or a free product as a token of their gratitude for our loyalty to their shop, that is the simplest form of a loyalty program. And that is how historically loyalty programs started; in fact, it is said that in ancient Egypt, people including workers were rewarded status tiers and tokens made of wood which they could redeem on a wide variety of things. Later in the 18th century a merchant in New Hampshire gave away copper tokens to customers during each purchase transaction, which, once accumulated, could be used for future purchases. So, the history of loyalty programs goes back centuries!
Fast forward to the 20th century, when more businesses in multiple industries started introducing loyalty programs to attract and retain customers. It is exciting to learn that Betty Crocker coupons, one of the oldest but still running coupons program, was started a century ago in 1921. American Airlines is credited with introducing one of the world's first frequent flyer programs in the 1980's that rewarded "miles" in return for every flight booking, which travelers could later redeem to buy future flights.
So, we talked about discounts, coupons, and miles. These are some of the ways for rewarding a customer for his or her loyalty, which we generally call "loyalty currency," and there are different categories of rewards. But first things first, let us define what is a loyalty program?
Exhibit: How loyalty programs work
In simple words, a loyalty program is a membership-exclusive program used by enterprises or businesses to retain and engage with customers by rewarding them for repeat business. We can stretch and improvise on this definition to suit the domains we want to apply it to, but the overall objective of such programs is to increase the Customer Lifetime Value or CLV, for the enterprise. And rewards are the mechanisms by which retailers give it back to the customers and around which they build relationships. Such rewards may fall into one or more of the following categories:
Points-based (or Miles-based, as we see in the case of airlines). Such a reward system allocates pre-determined points to each currency unit we are paying, whether in dollars, pounds, euros, or rupees.
Discounts or cashback, offered simply on the purchase value, or by virtue of a coupon or a voucher
Information on topics of interest to us that is otherwise not easily accessible E.g., upcoming events, talk shows, or an exclusive cooking session on the company's website
Privileges such as access to airport lounges, special events such as golf courses or horse racing, and favorite channels
Almost every industry, from automobile companies to grocery chains, has come out with its own loyalty programs, which may vary in how they engage and reward. The way luxury car companies like Mercedes run loyalty rewards and programs could be very different from how grocery shops like Sainsbury's- where customers make frequent repeat purchases – design & implement.
1. Designing a Customer Loyalty Program
The best loyalty program is one that provides the most perceived value for every member for each point or instance of interaction with the brand, be it a purchase or sharing a piece of information. In simple words, if you are a sports enthusiast, this would mean that not only will you receive a notification about your favorite sporting event in your city well in advance, but you will also get to buy a ticket using your membership. And for a company running a loyalty program, this means much more: from knowing each customer's tastes and preferences beyond just their purchasing behaviors to forging partnerships and collaborations with multiple parties and organizations that equally benefit from a loyalty ecosystem, and then using data and technology to design, evaluate, and launch campaigns and programs that will help generate additional revenue opportunities while creating a positive customer experience and reinforcing their brand loyalty.
1.1 Setting the priorities
A Harvard Business School report published in 2019 rates customer service, digital access, and ease of use well above traditional monetary rewards when it comes to loyalty strategies in the 21st century. The study also reveals that
Around 3 out of 4 senior managers surveyed believe optimizing their loyalty strategy is one of their key objectives going forward.
Yet 46% believe their loyalty strategy lacks innovation.
More than half of the respondents say that digital and omnichannel access will be the most important drivers of success, not the economic rewards.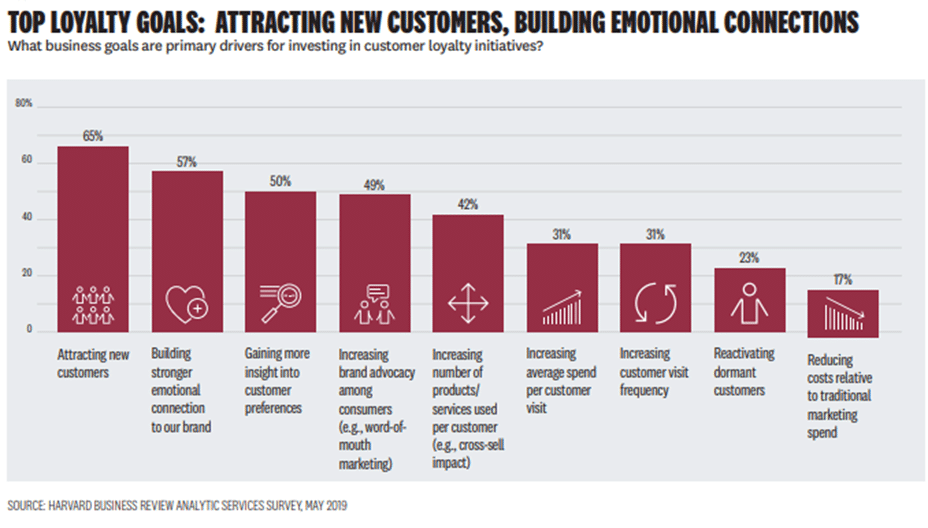 Exhibit- Setting loyalty priorities
2. Critical Success Factors & Capabilities
The key to a successful loyalty strategy lies in building strong relationships with individual customers. Such loyalty programs will create a positive change in behavior that results in the customer's
Choosing the brand over competitors
Recommending the brand to others
Increasing the frequency of purchases
Perceiving the brand as the favorite in their category, and even
Willing to pay higher prices to stay with the brand
But how do we formulate a loyalty strategy that can create such positive experiences and behaviors? As we discussed before, merely rewarding for repeat purchases in the traditional way will yield no desirable results for the business in a socially connected ecosystem. Moreover, knowing that the rewards in most loyalty programs are perishable or time limited—meaning they expire after a set period—the lack of insights, poor strategy, and insufficient planning make loyalty programs increasingly unattractive by not providing enough avenues and opportunities for the customer to use their hard-earned rewards. So, what all should be the critical factors and elements that should direct a new age loyalty program design? We will briefly discuss some of the critical factors or elements that can contribute to a successful loyalty strategy in the new age of consumer empowerment and technology democratization.
2.1 Customer Engagement & Ease of Use
Keeping up with customer expectations will be the top priority while designing a loyalty strategy and program elements. This would mean locally tailored or hyper-personalized offers and rewards depending on the customer's location, tastes and preferences, and social profile. Creating and tailoring programs around customer personas are crucial win-win propositions. For example, a push notification to your smartphone about your favorite movie in your current location along with a ticket option would surely be a "wow!" moment.
Just designing around customer experience is not enough, though. Tracking how the programs are valued and utilized continuously matters too, for which measurement around selected KPIs are needed. The growth and decay in customer acquisition and retention are important measures used for monitoring program performance.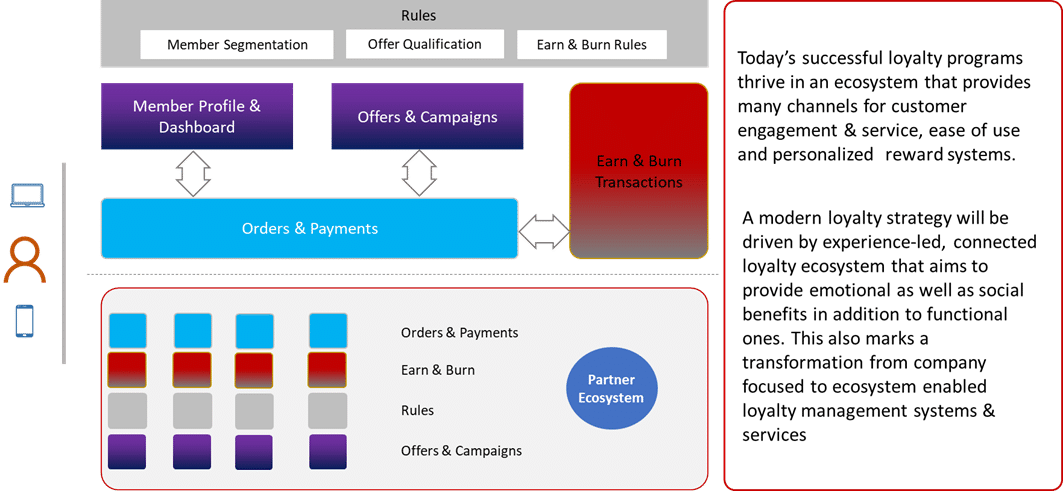 Exhibit: Designing a modern loyalty ecosystem: a conceptual representation
2.2 Cross Industry Partnerships & Connected Offerings
Critical to developing a personalized experience is the organizational agility to innovate and collaborate on a partnership-driven loyalty ecosystem. This is a big enhancement from erstwhile coalition programs where a third-party organization, typically a technology company, onboarded partners, but in a less collaborative environment. Compared to that, a new-age technology-driven loyalty ecosystem not only promotes connected offerings but also encourages cross-industry partnerships to provide far superior customer satisfaction. Take Avios, for example. The frequent flyer program, which is run by a partnership among a number of airlines, recently struck a deal with a leading Indian bank (Indusind), enabling the bank to issue multi-branded credit cards using which travelers can buy flight tickets and earn Avios miles. Qantas frequent flyer program also offers similar flexibility & customer experience by which points earned with flight booking can be used for hotel booking, including Airbnb. In retailing, Amazon Prime is an excellent example of a connected offering that creates a "more than the sum of its parts" experience for its subscribers.
2.3 Digital Strategy & Transformation
Today, loyalty transformation is incomplete without a digital strategy. Reaping the benefits of continuous customer engagement within a partnership-driven loyalty ecosystem requires the backup of an effective technology strategy, and today, loyalty transformation is incomplete without a digital strategy. The ease of use and potential for value realization at your fingertips make digitalization a priority for today's customer. Accessing the membership benefits anytime, anywhere, with a touch or scan of our phone, being informed about local events leveraging geo-location services, and having virtual assistants answer our questions and share information with us are the new normal today. Smart shopping is incomplete without smart member services, and that includes the rewards. Moreover, it goes without saying that such digitalization opens up a goldmine of data and customer touch points that can be turned into valuable insights for refining the value proposition. Today, there are many businesses leveraging digital strategy to pioneer the loyalty landscape: Sephora, Starbucks Rewards, DSW, Tesco Clubcard, and Sainsbury's Nectar, to name a few!
Conclusion
Loyalty programs are value drivers for organizations that develop them as a competitive tool to engage with customers and build long-lasting relationships. In many cases, such programs are designed to sync with the overall customer experience strategy from shopping to purchasing and post-purchase support, for which creating personas and analyzing the entire customer journey that includes earn and reward notifications, events, and touch points are extremely important.
Implementing a loyalty program around digital customer experience, ease of use, and connected offerings requires meticulous planning, customer journey design, and agile assurance integrated into a continuous delivery model. Cigniti's digital engineering and assurance capabilities help businesses create positive loyalty experiences through planning, discovering solutions and digital stories, and ensuring that each end-to-end customer journey realizes the value it was designed for. Its dedicated domain, the Center of Excellence (CoE), continuously explores stories that leverage technology to impact customer experience positively and generate valuable market insights. Moreover, its proprietary AI-led digital assurance and quality engineering platform supports solution excellence through test automation, accelerators, model-based testing approaches, and assurance analytics.