SAP S/4 Hana Migration and Overview
Suresh Patnayakuni
According to Gartner, SAP S/4 Hana is a transformational shift for SAP and its users. 
SAP's next-generation business suite, SAP S/4HANA is much more than an IT tool. It has the potential to transform your organization's entire business strategy. It enables real-time data-driven decision-making and unlocks the power of breakthroughs such as AI, machine-learning and IoT. Thanks to SAP HANA in-memory data technology, SAP S/4HANA offers unparalleled data processing and visualization capabilities. 
SAP S/4HANA migration is the move from an SAP ECC to SAP's next-generation SAP S/4HANA business suite (either on-premise, hosted in the cloud or hybrid). 
Why move to SAP S/4HANA
SAP will no longer support its existing ERP business suite in 2027 – requiring users to move to the HANA in-memory platform. While migrating to SAP S/4HANA is inevitable for SAP customers, the potential costs, complexity, and duration of a migration project may be daunting. 
With over 8,700 customers live on SAP S/4HANA and hundreds more going live every month, now is the time to make your move to our modern, intelligent ERP. 
When it comes to the approach and pace of your migration, your business has options. Re-platforming today – rather than at the last minute – offers even greater flexibility. 
There is no one-size-fits-all approach to migration. You can start from scratch, the greenfield approach, which features a complete redesign of your business processes. A brownfield migration enables you to bring your core ERP structure and historical data with you. A Bluefield migration approach unlocks greater data migration flexibility and speed. 
Business Case for Migrating to S4 Hana
Improved performance: 
High speed of transaction processing and reporting

 

S/4HANA allows you to drive business activities such as planning, execution, reporting and analytics in real time

 

Connect with customers through any channel to deliver value and provide a better service level for customer-centric applications.

 
Agility & flexibility: 
Analyze big amounts of data quickly and in real time

 

Get instant insights to any data, any time and from any device to make decisions as rapidly as your business grow.

 

SAP S/4HANA gives customers the opportunity to boost business agility and flexibility and drive new revenues and profits

 
Simplicity: 
Simplified table structure and data access.

 

Data is fully automated.

 

User-friendly interface is SAP Fiori driven with a modern design which means real-time insights let you drive business processes online and adapt them instantly through your device.

 
Reduced Total cost of ownership 
Reduce your expenses with the single SAP S/4HANA database platform.

 

Larger data is collected in one single source, combining the analytical and transactional operations of the systems in a way that saves hardware, operational and time costs.

 

SAP S/4HANA offers two deployment options: On-Premise and On-Cloud Editions to drive quick time-to-value

 
Innovation 
Keep up to date with modern digital technologies.

 

SAP S/4HANA is always evolving its software products and services to expand the capabilities of S/4HANA and match all customers' needs. 

 

Be one step ahead of your competitors with SAP innovations for better business performance.

 
Differences between SAP ECC & S/4 Hana:
FUNCTION

 

SAP ECC

 

S/4 HANA

 

Database

 

Oracle, IBM DB2 etc.

 

Hana Database

 

Source of truth

 

Multiple

 

Single

 

CO & FI GL Accounts

 

FI GL accounts are mapped to CO Cost Elements

 

Unition of GL & CO called Universal journal

 

New GL

 

In Classic GL optional of document split & Parallel Ledger

 

Parallel ledger is prerequisite for new Asset accounting

 

CO-PA

 

Account based CO-PA & COST based CO-PA both cannot run simultaneously

 

Account (Default) & Cost based CO-PA can run simultaneously

 

Custom Code: Read

 

Cannot redirect to compatibility view

 

Can be redirected to compatibility views

 

Business Partner

 

Customer & vendor are treated separately

 

Customer & vendor treated as Business Partner

 

Credit Management

 

ECC use Traditional FI-AR-CR credit control setting

 

FI-AR-CR is replaced by FSCM having advanced features like, credit rules, 

 

workflow etc. 

ATP (Available to Promise)

 

Individual and summarized requirements

 

Individual Requirements

 

Pricing

 

Condition techniques and KONV tables are used

 

new table PRCD_ELEMENTS with extended fields are used

 

MRP (Material Requirement Planning)

 

MRP in ECC is run through batch jobs

 

No need of Batch jobs

 

Foreign Trade

 

Foreign trade functionality is Manual and complex

 

Foreign trade functionality replaced by GTS (Global trade services) with

 

 automated features 

Material Ledger

 

ML valuates inventory in single currency

 

ML valuates inventory in multiple currencies

 

Revenue Recognition

 

RAR is based on GAAP, IAS & FRS principles

 

RAR is based on FASB & IASB Principles

 

User Interface

 

GUI based interface

 

FIORI is new Interface

 
 

SAP Migration Scenarios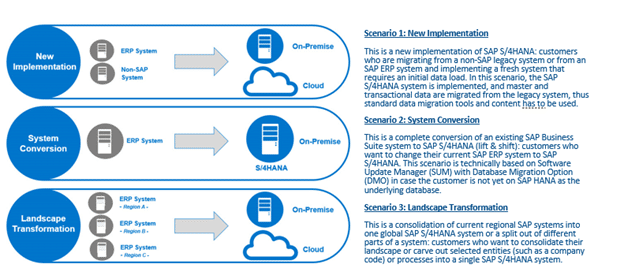 SAP S/4 HANA Overview:
SAP Business suit for SAP HANA database

 

A new Product and new generation of business application

 

Fully built on the in-memory platform SAP HANA

 

Provides an instant insight by using a single source of truth, real-time processes, dynamic planning, and analysis

 

Modern and simplified User Experience optimized for all devices.

 

Reduce the data footprint of your company by removing the aggregates

 

Choice of deployments (On-premise, Cloud, Hybrid) 

 
S/4 Hana Module List:
Key business processes of SAP S/4 Hana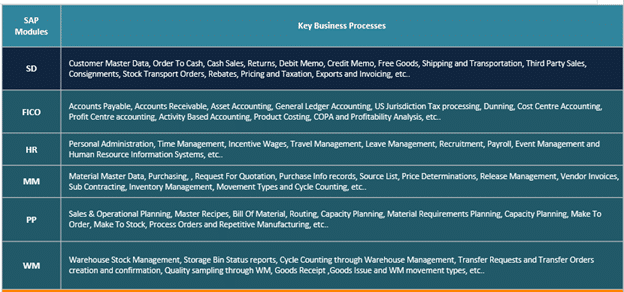 Universal Journal (FI module):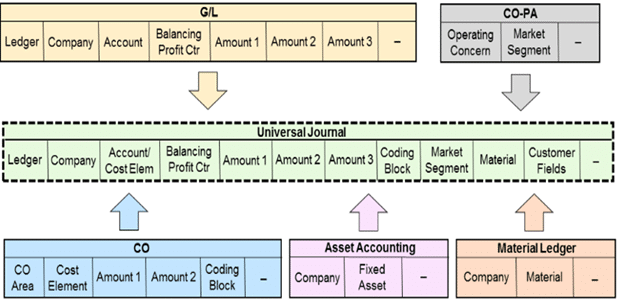 Migration Testing
Challenges in migration testing of S/4 HANA:
Obsolete and Consolidated T Codes require knowledge.

 

SAP FIORI UI Navigation knowledge.

 

Knowledge of the new S4 hana tables to retrieve data

 

Test data retrieval techniques will be changed based on navigations

 

New report's changes require knowledge

 

New user interface requires a learning curve

 

Enhanced business functionalities of S/4 Hana need knowledge

 
Since the world is undergoing a digital transformation, it's high time for SAP customers to migrate from traditional ECC to the latest S/4 Hana application. Migrating to SAP S/4HANA will benefit your business and add overall business value by radically improving your business processes, leveraging your data for improved insights, and driving business agility. 
We cannot deny the fact that customers are habituated to GUI (Graphical User Interface) and using T-Codes (Transactional Codes) from the past few decades and it is not an easy thing for them to migrate to Fiori User Interface all of sudden. Hence, SAP has provided flexible options to smoothen this migration journey. Even though excellent support and guidance is provided by SAP, customers still need a learning curve to adapt to the new enhanced features, UI, and navigations of S/4 Hana. 
Conclusion
Following the best practices for S/4 Hana migration and creating a perfect roadmap will help the customer have a smoother transition. An opt implementation and testing partner's appointment also gives the best results. 
Cigniti's SAP testing practice provides cost-effective testing solutions that address all aspects of implementation and upgrade methodologies for SAP HANA. Our custom testing solutions, ready-to-use test automation framework, pre-built test cases and test scripts, and over 1000 BPT components for various modules ensure a seamless implementation, upgrade, and migration for global enterprises.  
We leverage our experience with testing large scale data warehousing and business intelligence applications to offer a host of Big Data testing services and solutions such as BI application Usability Testing. Our open source big data testing tools help evaluate the reporting app for end-user's adaptability and continuously review the observations with the user & dev group, as a part of our Agile and DevOps testing.  
Schedule a discussion with our experts to understand how we can support your organization in its SAP HANA implementation.