The 'Mantra' to Attain Effective ERP Testing and Implementation
Cigniti Technologies
The global audience has been witnessing a surge in the number of Start-ups, and the specific requirements they have, for a robust Enterprise Resource Planning (ERP) solution, which can specifically address issues coming up in the 'start-up' environment. Hence, whether small or medium – medium or large, every organization requires an ERP solution to manage various functions and accelerate growth.
According to a new report by Allied Market Research entitled, 'Global ERP Software Market – Size, Industry Analysis, Trends, Opportunities, Growth and Forecast, 2013-2020', the global ERP software market is expected to reach $ 41.69 billion by 2020, registering a CAGR of 7.2% during 2014-2020.
According to Gartner, an ERP system impacts a broad set of stakeholders.
Today, large organizations are moving their ERP solutions to the Cloud and this further emphasizes the application of consistent and meticulously planned QA checks for robust practices to test the ERP solution.
Majority of the ERP Implementation projects fail because of inadequate test planning resulting in ineffective testing. ERP systems can prove to be instrumental in integrating various functions of the organization and bringing together various capabilities with swift communication channels. Within an organization, the ERP system touches various functions, processes, people, and functional issues as well.
The relevance of ERP has gone beyond mere corporates. Today it is being considered by leading educational institutions to replace redundant legacy systems as well. This has resulted in attaining operational excellence and boosted communication amongst the various functions of an organization (irrespective of their domain of business).
An ideal approach to test ERP applications within a specific business environment is to consider a 360-degree perspective and focus on the underlying business objective.
The key reason is that an ERP system is expected to integrate various functions, where the testing effort can complement the development effort as well.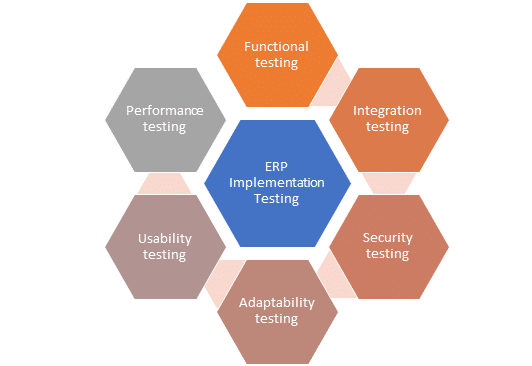 In this article, we would try to address the best practices in ERP testing in large-scale organizations. This will additionally help us to understand and highlight its relevance / implications across a larger enterprise.
A well-integrated ERP solution brings efficiency and competence in the business processes, and enables enterprises to seek required information on time.
The magic 'Mantra' to attain effective ERP testing and implementation = Analyzing requirements + Defining the testing needs + Specifying testing goals + Stating business objectives + Describing the testing strategy
A few good practices to follow while implementing an ERP System for your organization are provided below.
Requirement gathering & Planning: Collecting relevant information helps take stock of the various touch points in an organization, which subsequently helps in effective planning. One of the reasons is to achieve enhanced test coverage and manage the tests better from inception of the project.
Attaining test goal: Achieving enhanced test coverage and effective testing is the underlying objective. Implementing Test Automation helps reduce the testing efforts and attain the defined test goals.
Identifying test cases: In order to ensure maximum test coverage in the defined scope, it is important to identify all the test cases for the various types of tests to be performed. Additionally, it is imperative to document the key business processes, where the ERP solution is going to be implemented.
Setting up a test lab: It is recommended to set up a dedicated Quality Assurance test lab for testing the ERP system. When all the machines are configured with the desired specification, it takes away the performance issues while testing.
 Conducting Regression, Performance, and Security Tests: Regression testing, Integration testing, Performance testing, Usability, and Security testing are important for ERP testing, as the system holds an organization's critical data. This helps save time and costs, and enables continuous monitoring of the systems.
Scrutinizing defects and creating test reports: When all the testing components are tested, it helps determine the ERP application's swiftness within the organization. This also helps in analyzing the failure aspects, which could be expected in real environment. All these processes and defects should be documented as test reports for future reference.
While today many organizations are considering online self-service systems for effectiveness and ease of implementation, but whether or not this is recommended is a question to be answered yet. That said, ERP has evolved and established itself to be a popular modern business lexicon that provides long-lasting benefits for enterprises over the years.
Agile and DevOps hold utmost relevance for successful ERP implementations and ensure the desired outcome. Cigniti's focused ERP Center of Excellence (CoE) has delivered verification & validation services to large enterprises
Connect with Cigniti's ERP Test experts to devise end-to-end Test framework and get the most out of your ERP solution.