Top 3 Approaches to Manage Airline Disruptions
Deepakumar
In winter 2022, US airlines faced an arduous test as heavy storms disrupted thousands of flights, resulting in over 17,000 cancellations or delays. Southwest Airlines, known for its unique business model and exceptional customer service, was hit the hardest, with 16,000 affected flights. Despite industry-wide losses, Southwest quickly restored normalcy within a week. However, they went beyond firefighting, committing resources to strengthen their systems and prevent future incidents. This proactive approach showcased their dedication to delivering a resilient and reliable travel experience.
Airline Operations Disruptions – Causes and Impacts
Airline disruptions are unexpected changes to flight schedules caused by various unprecedented factors. These disruptions can arise from internal or external sources, affecting multiple flights. External factors include events beyond the control of the airline or other stakeholders, such as bad weather or political unrest. These large-scale disruptions impact multiple airlines and passengers over an extended period. While prevention may not be possible for such events, airlines rely on weather predictions to mitigate the impact.
Disruptions can also stem from issues within the airline ecosystem involving stakeholders like airports, caterers, baggage handlers, and fuel suppliers. For example, inadequate deicing equipment at an airport during peak winter can lead to disruptions for one or more airlines, affecting passengers and crew.
The impact of disruptions varies depending on the nature of the events and the airline's response. Delays caused by technical issues or missed connections can lead to cascading delays and necessitate rebooking passengers on other flights. The consequences extend beyond individual passengers, affecting crew duties, catering orders, and baggage systems.
Managing disruptions is crucial for maintaining customer satisfaction and minimizing costs. Airlines prioritize re-accommodating passengers, addressing crew duty issues, managing catering orders, and handling temporary storage for baggage. Successfully navigating small or large disruptions is essential for protecting an airline's reputation and financial stability.
Managing Disruption – Perspectives and Approaches
While airlines employ tactical measures to recover schedules and restore normal operations, long-term strategies are crucial for better planning against future disruptions. Such approaches aim to strike an optimal balance, minimizing the impact on passenger itineraries and customer experience, reducing the cost impact on the airline, and decreasing the time required to bring schedules back to normal.
Here, we will explore three approaches and tools that airlines can leverage to manage disruptions: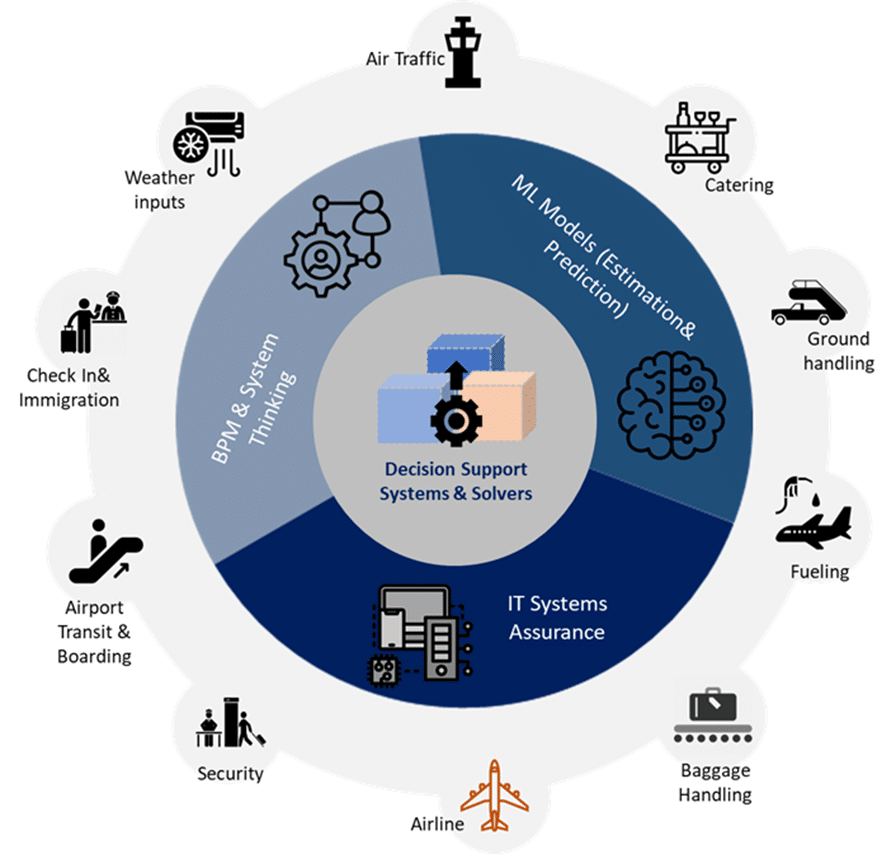 Real-Time Information and Predictions: Inclement weather often plays a significant role in large-scale disruptions. Fortunately, technological advancements in weather predictions provide airlines and airports with more accurate forecasts and weather intelligence. By investing in advanced weather technology and upgrading weather models to account for climate change and new patterns, airlines can use machine learning (ML) and other technologies to predict disruptions with greater precision. Armed with real-time information, airline managers can plan around disruptions more effectively, resulting in less downtime and improved schedule reliability.
Business Process Management and Systems Thinking: Examining and optimizing every end-to-end process involved in daily operations opens up numerous opportunities for better process control and improvement, essential in managing disruptions. Modeling business processes and involving all stakeholders lays the foundation for adopting a system-thinking approach to enhance day-to-day operations. This often overlooked but vital strategy distinguishes success from failure. Embracing process management requires the active engagement of multiple stakeholders to achieve effective and efficient outcomes.
System Availability and Performance Assurance: As IT becomes a strategic tool for modern airlines, it becomes paramount to move beyond legacy infrastructure and modernize IT systems. Today's airlines rely on numerous integrated systems, some of which are mission-critical and cater to various stakeholders' demands. Ensuring the resilience and robustness of these systems is essential, notably when numerous flights get canceled or delayed, requiring the re-accommodation of thousands of passengers and crew members. System modernization and continuous testing of limits and boundaries are necessary to achieve this. Thorough verification processes, such as chaos engineering, should be integral to an airline's overall quality assurance strategy, especially when managing disruptions is a priority.
By incorporating these approaches and tools into their long-term strategies, airlines can effectively enhance their ability to respond to disruptions. This minimizes the impact on customer experience, reduces financial losses, and improves overall operational efficiency.
Conclusion
Embracing innovation, collaboration, and resilient systems ensures that airlines are well-equipped to handle disruptions and maintain their position as industry leaders.
Cigniti is the leading choice for assurance and digital engineering services, providing global expertise to top corporations, including Fortune 500 companies and airlines. Their cloud-based performance lab services offer location-independent testing environments, specialized performance engineering, and test consulting.
Through its dedicated domain Center of Excellence (CoE), Cigniti continually explores opportunities, use cases, and tools to optimize airline operations. With a focus on innovation and automation, Cigniti delivers consistent savings and builds resilient systems.
Discover more about Cigniti's capabilities in the airline industry and how they can be a valuable partner on your growth journey by leaving a message.