Usage-based Insurance and Telematics Testing
Cigniti Technologies
Usage-based Insurance (UBI) is an innovative type of vehicle insurance that calculates insurance costs based chiefly on the vehicle used. Usage based Insurance allows insurance carriers to monitor their customer driving habits through a telematics device.
Telematics and UBI play an integral part in the future of auto insurance market. The parameters on which measurements are recorded are time, place, driver behavior and distance. Telematics insurance records these and other relevant parameters, through a small device fitted into a car.
This information can be tracked using odometer readings or in-vehicle telecommunication devices (telematics) that are usually either self-installed into a special vehicle port, or already integrated in original equipment installed by car manufactures.
From the information received, insurance carriers analyze real-time data, instead of relying solely on predictive risk modeling. Predictive risk modeling is based on a number of statistics, not all of which are relevant. The real-time data helps companies in developing new products and in calculating auto premium pricing with higher accuracy.
Consumers who use UBI are given an accumulating discount at each renewal, typically ranging between 5% and 25% off their premium. Drivers can often track their discount online or via the mobile app. UBI is rapidly gaining traction, particularly among young users.
Carriers can also can consider the following habits:
Acceleration
Following speed zones
Music Volume while driving at diff speeds
Indication when changing lanes and turnings
Integrating granular data from the insights of telematics into the rating system gives insurance companies a clear advantage in today's data-driven world. The telematics system attracts and looks to retain hugely profitable customers. With all industries increasingly implementing data insights, insurance companies that do not have access to telematics will soon become vulnerable.
[Tweet "Reports suggest that the year of 2020 will witness about 90% of new cars having telematics embedded in their manufacturing."]
In addition, there would be an increase in the partnerships between telematics and the telecommunications industry, with the inclusion of functionalities such as geo-location, vehicle diagnostics, roadside assistance, etc. This will help insurance companies price their policies with higher accuracy, and as a result, policies will become more cost efficient.
UBI is expected to rapidly grow in the US. Approximately 70% of all auto-insurance carriers are expected to use UBI telematics by 2020. As per a CIPR study, there were more than five insurance companies active in the telematics UBI market in 23 states.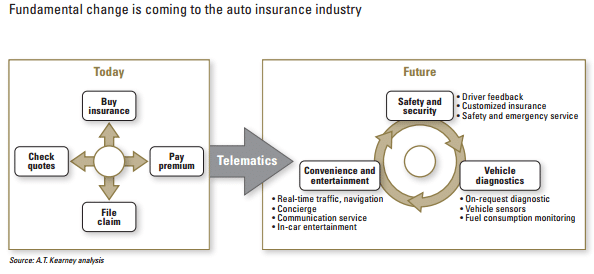 The Advantages of Telematics:
Telematics is the integration of vehicle monitoring systems, mobile communications, and location technology. Consumers and insurers alike have plenty to benefit from telematics. Following are a few major advantages:
It will enable insurers to increase customer acquisition, and improve loyalty.
It helps insurers to accurately estimate accident damages and reduce fraud by enabling them to analyze the driving data (braking, speed, and time) during an accident.
It helps to lower accident and vehicle theft related costs by improving accident response time, allowing for stolen vehicles to be tracked and recovered, and monitoring driver safety.
It helps produce accurate odometer reports, and it gives a comprehensive picture, leading to more detail around fleet maintenance issues. This allows fleet managers to optimize and enhance the life cycle of their vehicle, to plan better and lower the overall costs of fleet.
It improves driving safety of the car driver and will generally enhance the overall insurance claim experience.
Usage of Telematics:
The term "telematics" can loosely be defined as a "connected car", with features such as live weather updates, parking space, and traffic information displayed across the dashboard.
By effectively combining a GPS system along with on-board equipment, telematics is leveraged to map and record the precise movement of a car and its speed. This data is used to check how the internal behavior of the car is. Along with this setup, a constant internet connectivity in the form of 3G or 4G/LTE is added to transmit the data real time, communicating between a central management system and a vehicle. The web application typically provides a portal for vehicles.
Vehicles' computers have data such as speed, RPM, mileage, in-gear ratios, distance, idle time etc., that is captured using a snapshot device attached to an OBD port of the vehicle. The real time information is sent to a central server using cellular data network. Server processes the raw data and can be accessed using a web application.
The Need and Challenges of Telematics Testing:
The interconnectivity of telematics makes it crucial to ensure that integrity and accuracy are maintained in the data being transmitted from one device to another. This calls for seamless integration and in-depth understanding of how the devices function independently, as well as how they communicate with one another.
Typically, the systems under test are in-car entertainment integrated with infotainment components.
The shorter development cycles, coupled with the exponential rise in the system cost in case of a software failure, demand an improvement in testing processes. Faster time to market of applications with no compromise on the quality is absolutely crucial.
Some of the most pressing challenges for software testing include:
Establishing the proper hardware / software interface for testing is a challenge
Simulate real-time data as per the vehicle movement
Simulate GPS and Navigation
In Conclusion
As the digital era continues to open up opportunities across industries, Telematics is fast emerging as a leader, with the "Pay As You Drive" technology. Such an innovative approach transforms user experience with the concept of auto insurance.
Cigniti helps global insurers in their digital transformation, thereby delivering improved customer experience and competitive advantage. We make sure your applications / systems run seamlessly by ensuring efficient back-office operations. We offer customized Advisory and Transformation Services in testing for Life Insurance (Life, Annuity, and Pension), Property & Casualty (P&C), Auto, and Re-insurance segments.
To know more about us, visit our website and get in touch with our experts.