Why Migrate From On-Premise SAP HCM to Cloud Based HXM-SAP Success Factors?
Sailaja Bodula
On-Premise SAP Human Capital Management (HCM) was considered one of the most powerful Human Resource Managements (HRMs) until the relevance and necessity of cloud-based SAP SuccessFactors came into the picture.
The two most prominent reasons for the growing popularity of cloud-based (Software as a Service) SaaS applications are (1) changes in the Gen Y and Gen Z workforce at offices, and (2) the developing culture of remote work.
Gen Y and Gen Z are different from baby boomers, who want a transparent, process-oriented, and hassle-free system at the office and don't think much about changing their employers if they face any glitches in the administration.
Human resources are considered one of the most important assets of every business.
Recruiting, onboarding, engaging, and retaining employees in a cut-throat competitive market is becoming a critical success factor.
Only the highly engaged employees, for whom the companies' loss equals their loss, make a genuine effort to provide the best Customer Experience (CX) in the market. Employees desire good Human Experience Management (HXM) in exchange for their hard work.
HRM has progressed from the traditional offline mode to cutting-edge HCM via on-premise SAP HCM and now to the unavoidable cloud-based SAP SuccessFactors.
Apart from the reasons we discussed above, SAP's declaration of the year 2025 as its deadline for providing support to SAP HCM and the global outbreak of the deadly coronavirus play the role of catalyst in aggravating the inevitable switch towards the cloud-based SAP SF.
Amidst the high tide of COVID waves, on-prem HCM is falling decidedly short of what today's businesses need to remain competitive. The economic lockdown has highlighted a simmering need among business units for a customizable and mobile HR management platform that works hassle-free with high efficiency even if most employees are working from home. Legacy HR systems simply can't work smoothly in this suddenly changed work ambiance.
The revolutionized concept of providing unparalleled human resource experience is exactly what SuccessFactors, a cloud-based Human Experience Management (HXM) suite, promises to deliver.
SAP SF is one step closer to achieving complete transparency in all aspects of recruiting, training, payroll, compensation, performance management, engagement, productivity, and increasing business value in the workplace.
Cloud is the future for the industry
As per the studies by "Synergy Research Group," the cloud infrastructure market is growing fast, and companies have already started jumping their workloads from on-premises to cloud-based platforms. Cloud infrastructure spending surpassed on-prem spending in 2020 for the first time by a wide margin.
New data shows that enterprise spending on cloud infrastructure services has plunged to a record high and is continuing to ramp up aggressively. In 2020, the demand for cloud platforms grew by 35%, reaching almost $130 billion. And spending on software and data center hardware has dropped by 6% to just under $90 billion.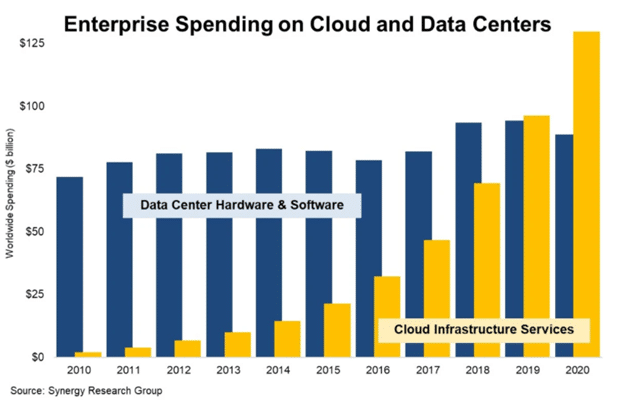 Reasons: How do digital HXM solutions from SAP fix all the loopholes present in the legacy HCM software?
Allows for meaningful, end-to-end experiences based on how different people work and what they need to be their best version
Enhanced core HR with enhanced configurability and localization
Time Tracking, a cloud-based solution for advanced time and attendance capabilities
Continuous Feedback Loops – consistently monitor and optimize key moments across the employee journey
Deep and strategic HR capabilities to align HR with business goals across breadth and depth
Secure multi-cloud infrastructure that allows new levels of performance and resilience in future development
Fully customizable and accessible for remote work from anywhere at any time, with the ability to begin at any time.
Fully scalable with global and local regulations in over 100 countries for HR and 46 countries for accelerated payroll services in the cloud
Allows to build and integrate apps to extend HR capabilities based on unique needs.
A recognized leader with a proven history of a successful track record of providing quality HR across all industries, sizes, and geographies
Hassle-free data integration between on-prem and the cloud
Deliver strategic, deep mined insights to HR and leaders and help them make critical business decisions
Work in tandem with the rapidly changing needs of your workforce with the latest technology
Difference between SAP HCM and SAP SF
| | | |
| --- | --- | --- |
| Features | On-premise | Cloud based |
| Ease of Use | Large learning curve | Intuitive, modern and experience based |
| Efficiency | HR- intensive processes | Mobile-first with native self-service processes, experience based |
| Toolsets & Integration | Developer reliance | Simplified business tools strategically designed for HR |
| Innovation | Customers' responsibility to apply and use | Automatic semi-annual release cycles with constant innovation |
| Workflows | Requires specialized workflow | Business-friendly tool |
| Mass Updates | Often, requires custom processes | SAP-provided tools |
| Extensibility | Technical and time-consuming | Simplified framework to easily extend the system |
| IT | Reliance on IT | Non reliance on IT |
| Installation | Local installation required, hardware and software | Non-local installation required |
| Extra workforce | Workforce is required to maintain hardware | No workforce is required to maintain hardware |
| Economical | Costly to maintain, regular hardware and software upgradation and services | Comparatively less cost to maintain, cloud-based SaaS (software as a service) platform |
SAP Cloud UI Benefits over SAP GUI
Below is an example that exhibits the flexibility of SAP UI.
Comparison between on-prem and cloud-based platforms.
For SAP HCM
NEW HIRE:
Need to follow the hectic Navigation path and work based on Info types.
Personnel Action (New Hire)-PA40, below is the list of Info types to be maintained in the hiring processes.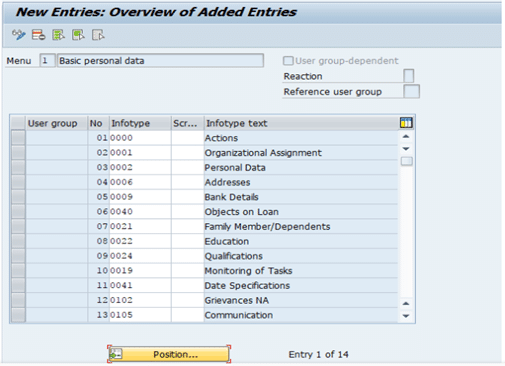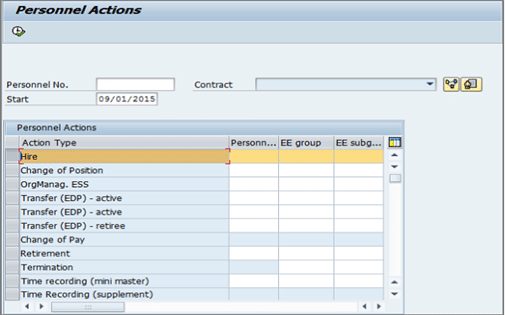 SAP SF (SuccessFactors) or SAP SuccessFactors human experience suite
NE HIRE:
No Info types or T codes, user friendly screen. Users can design ports according to the business demand.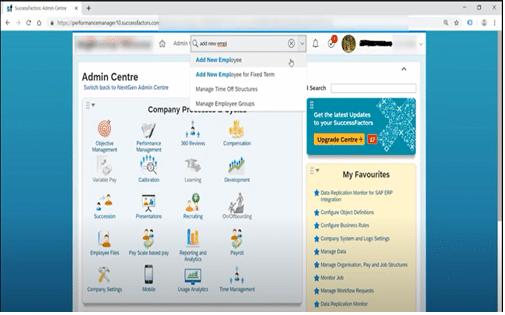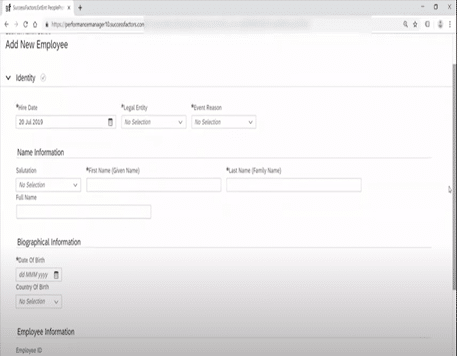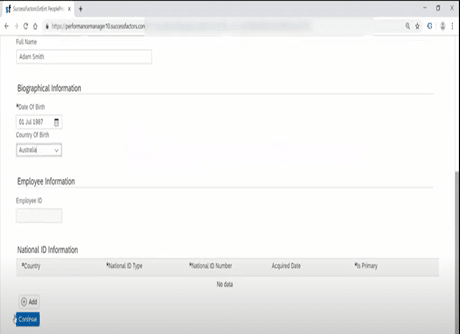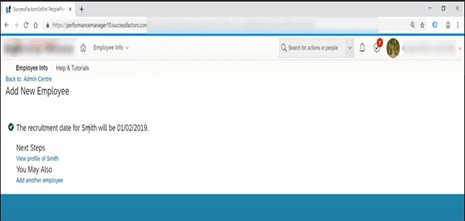 On-Premise Testing Vs Cloud Testing 
Testing Focus
On-Premises Testing
Cloud Testing
 Validation on Functional side

Validating component functions and   system functions as well as service   features

SaaS/Cloud service functions   end-to-end functions

Testing on Security

Function-based security features
User privacy

SaaS/Cloud security features,   including monitor and   measurement
User privacy in diverse clients

Testing on performance and reliability

Performed in a fixed test environment
Online monitor and evaluation

Performed in a scalable test     environment
Online monitoring validation and measurement
From the above table, we can conclude that Cloud testing is the best practice method.
Why should companies elevate on-prem SAP HCM to cloud HXM SuccessFactors?
SF provides end-to-end human resource services starting from recruitment, onboarding, exit, and even beyond. It consists of all modules that cover the entire journey of any new joiners and promise to leave the best HXM.
SAP SF Modules List: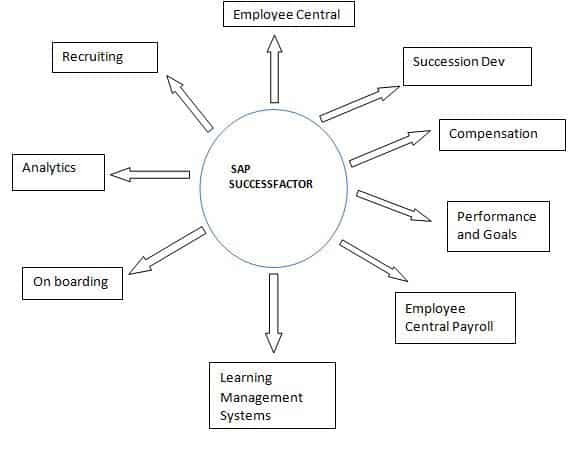 Key Business Processes of SAP SF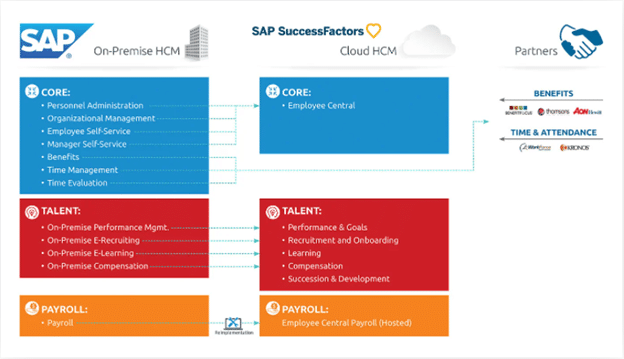 The Journey and Evolution from On-Premises SAP to SuccessFactors:
| | | | | | | | | | |
| --- | --- | --- | --- | --- | --- | --- | --- | --- | --- |
| | 2012 | 2013 | 2014 | 2015 | 2016 | 2017 | 2018 | 2019 | 2020 |
| Big News | Moving to the cloud | Talent hybrid Model | Side by Side Model | Managed Payroll Offering | Disruption | Extensibility | HANA sidecar Offering | SAP is making investments in both on premises and cloud | SAP extended date by 2 additional years |
| Landscape | 2 | 3 | 4 | 5 | 5 | 5 | 6 | 6 | 6 |
| Messaging | HR's Change in the work process. Are you ready to accept? | Time for Digital Transformation world. | Flexibility | New business process without disruption. | Most of the customers moved to cloud with a different journey. | Need to be updated. | It's a new HR Resolution | SAP is not only Cloud | People experience matters |
The world of work is changing at a high pace, be it the place where we work or how we work. Now is the right time to move from traditional applications to cloud-based solutions and manage the most vibrant human resources of recent times.
SAP and SuccessFactors have demonstrated tremendous growth and innovation in enhancing HR work to streamline the entire workforce procedures throughout any organization.
Conclusion
Today, it has become a necessity for enterprises to shift their workforce to the cloud, which empowers their employees with relevant experiences, delivers useful data and insights to the leadership team, and works in tandem with the frequently changing needs of the workforce.
Adopt advanced human resource management with world class UI and UX to maintain the best HXM and retain the most loved employees for a long time.
Cigniti, a global leader in independent quality engineering and software testing services, can be a valued testing partner throughout your journey of shifting from SAP HCM to SuccessFactors migration. Our deep domain experts will provide you with end-to-end testing services.
We've assisted companies with QA planning, metric identification, and estimating in their sprints, resulting in a seamless integration of their sprint teams to boost test coverage and deliver quality at lightning speed.
Our proven steps for SAP SF or SFSF testing practices will help the customers smoothen the workflow. So, picking the right implementation practices and testing partners will help you focus on what you are best at.
Need help? Schedule a call with our ERP Testing specialists to learn more about migrating from on-premise SAP HCM to cloud based HXM-SAP SuccessFactors.